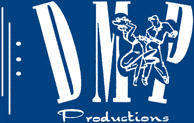 Professional Services, Packages and Pricing
When you hire DMP Productions for your Wedding, Corporate Function, Private Party or any other event, you are getting more than just music for the evening. You get top-notch professionalism with the following features and benefits:
| | |
| --- | --- |
| Early Arrival: | We carefully pre-plan our trip to your event to ensure an early arrival for a neat, professional setup. Our goal is to always have music playing before your first guests arrive. |
| Formally Dressed: | Your DJ will be dressed according to your request. For weddings we suggest you let your DJ dress in a tuxedo, but we always let you make the decision. Our DJs set up in street clothes to ensure their formal clothes are not soiled or torn. We always want to look professional for you and your guests. |
| Digital Sound Systems: | Our state-of-the-art DJ Systems are professionally assembled to provide you with reliable, clear sound at a comfortable level. All systems are equipped with cordless microphones, top-of-the-line mixers, speakers, and amps to accommodate the size of your party. You can see some of our equipment by following the link to our photos section. |
| Outgoing Personalities: | Our DJs are very outgoing, interactive and personable. We will always make time to speak with you and your guests with requests or to answer any questions about our equipment, how it works, etc. |
| Honor Your Don'ts: | If you ask us NOT to play a certain song or NOT to do a particular dance, you can count on us to honor that request. We will also NOT proceed to do anything we are asked not to do by your guests without your approval. |
| Clean and Quiet Exit: | When the evening comes to a close, we will exit in a timely, professional manor, always staying out of the way of you and your guests. |
---
We offer our services in the following convenient packages:

SILVER PACKAGE

$595

With the SILVER package, you receive the same attention and quality as our GOLD package, but just for a shorter period of time.

You receive:

Up to three (3) hours* of professional entertainment
Special light show
Top-notch state-of-the-art sound equipment.
Fog machine (must have written consent from facility)

*Setup and tear down does not cut into entertainment time.
GOLD PACKAGE
$995
Our most popular option, the GOLD package gives you all the features of the SILVER package above, but for a total up of six (6) hours*. Our professional entertainment services include cocktail and dinner music, bridal party introductions (for weddings), and all types of dance music for the remainder of the evening.

*Setup and tear down does not cut into entertainment time.
2 FOR THE SHOW
$1795
Experience this extreme, one-of-a-kind 2-man DJ show. We start with our popular GOLD package and throw in your choice of many extras. We combine two separate professional DJ services into this one-of-a-kind show. This gives you the interaction of two personalities, both with over 15 years of successful experience, and adds a level of flexibility to your event that will leave you and your guests with unforgettable experience.

This package is custom designed and detailed by you. The show offers our entertainment services from the beginning to very end of your party. Your guests are fully involved as you choose from the following partial list of additional services:

Karaoke
Neon Glow necklaces
Fog machine
Extra Microphones
Party Games
Walk-around magician with close-up magic for up to two hours
Clown for up to two hours
Prizes

WHY "2 FOR THE SHOW"?
After hearing stories about choosing the right DJ for a party, DMP Productions and Pro-Music DJ saw the need to offer a total show/package that would be COMPLETE and appealing to our clients and their guests. We let you pick and choose exactly what you want for one fixed price. Most other companies will price a package low & charge you EXTRA MONEY for:

HOURS OF SERVICE PROVIDED (Most will quote you a low price which gives you only 3-4 hours of service and then charge you $100-200 for each additional hour. The "2 FOR THE SHOW" package gives you non-stop service from the beginning to end of your party with no limit on total hours.
A GOOD SOUND SYSTEM (Most show up with their standard one). DMP Productions will always show up at your party with our high-quality, state-of-the-art sound system to accommodate the size of your party at no additional cost. Some of the equipment we use includes BAG END, RANE, QSC, DENON, and SHURE. We take pride in our service and feel that it all starts with the quality of the equipment we use.
GOOD LIGHT SHOW (Some charge extra for more lights, but still show up only with their standard ones). We use American DJ lighting including MACE, VERTIGO, AVENGER, PIN SPOTS, and ELECTRA.
EXTRA EQUIPMENT (Microphones, Fog Machine, etc). These items can be requested at no charge per your needs under this package.
PARTY PROPS FOR GUESTS TO KEEP (Neon Glow necklaces, Straw Hats, Hawaiian Leis, etc.) We feel these items create a great colorful party atmosphere and encourage interaction among your guests.
KARAOKE (Others charge a minimum of $200.00) You may choose this as an option to enhance the DJ portion of your event at no additional charge.
EXTRA PERSON (who is a helper, not an experienced DJ). Both DJ's (Bill & Dave) each have over 15 years of experience which, when combined, exceeds 35 years. This is helpful as we know how to read your guests and choose the right music and dances at the appropriate times. Both personalities are different, appealing and professional, and this facilitates interaction, involvement and energy between the DJs and among your guests.
OTHER PROFESSIONAL SERVICES (Clown, Close-up Magician, etc. – most will provide at a minimum of $300.00 each). If this is appropriate for your event, you may want to let us provide a Close-up Magician and/or Clown to your event in order to mingle among the crowd and warm things up. We provide up to 2 hours of service for each.

If there is something you would like that is not listed above, please inquire, as we may be able to substitute and accommodate your specific requests.

This show is offered on a limited first come, first serve basis and is not always available, so please book well in advance.